Ayurrathna Alleppey Resort's Kizhi Ayurvedic Treatment Massage can help you live a full of health, happiness, and vitality. Ayurrathna Alleppey is the only one Ayurvedic Resort in Kerala where you can get the best and most effective Kizhi ayurvedic treatment massage in the world of Ayurveda.
Kizhi  ayurvedic treatment massage is one of the important ayurvedic treatment in Kerala. It is one of the effects as well as main therapy of many chronic as well as dreadful disorders. Specially selected herbal leaves or powders are compressed into small bags and then dipped in hot, medicated oil or various herbal liquids and applied to the body or afflicted area.  The ingredients seep through the bag and penetrate deep into the body to result in an intensive and therapeutic treatment.
In Kizhi ayurvedic treatment massage, whole body or specific parts are made to sweat by using application of certain herbs which have the nature of alleviating the doshas (vata, pitta, kapha) are well powdered and are made into boluses in a muslin cloth.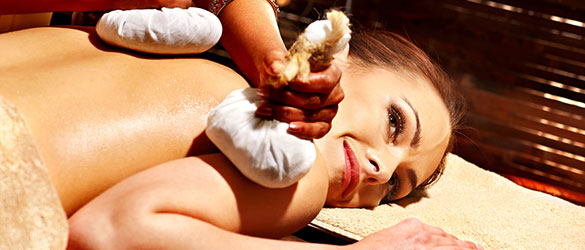 The kizhi ayurvedic treatment massage helps in relieving deep seated tension, increasing circulation, loosen toxins, strengthening muscle tissue and ridding the body of excess kapha. After the massage, all the linen bags are opened out and remaining pudding is taken and applied to the body of the patient and rubbed by the hands. After 5 minutes, the paste is wiped off with palm leaf scrapers. Patient is given bath after some time.
Benefits of Kizhi ayurvedic treatment massage :
• It increases peripheral blood supply.
• It relieves body ache and strengthens muscles and skin.
• It helps in improving the complexion of skin.
• Reduces inflammations.
• Relieves pain, numbness, and swelling.
• Stimulate the nerve endings.