Ayur Rathna Alleppey Ayurvedic Resort's Psoriasis Ayurvedic Treatment can help you live a full of health, happiness, and vitality. Ayurrthna Alleppey is the only one Ayurvedic Resort in Kerala where you can get the best and most effective psoriasis ayurvedic treatment in the world of Ayurveda.  Ayur Rathna Alleppey has a decade of experience in treating disorders like psoriasis & eczema.
Psoriasis is a chronic skin disease presents with red, itchy and scaly patches which may vary from a small sized lesion in one or two areas to entire body including the head, palms, soles or nails.
According to Ayurveda, This disease can be deliberated as the vitiation of Kapha and Vata and Pitta. The buildup of low potency poisons which are called as Dooshi vishas would be the basic pathological changes that happen in the system. Irregular food habits, excessive intake of black gram, yogurt, sour and salted foods, seafood, can trigger the pathogenesis. Consumption of alcohol and tobacco acts as a catalyst. Ayurveda does highlight the effect of stress on the disease.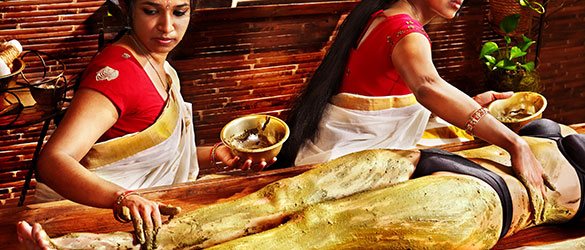 We practice a complete Psoriasis Ayurvedic Treatment. Our natural psoriasis Ayurvedic treatment uses medicated oils that moisturizes and removes scales from the skin. Using oils along with natural medication enhances the healing process among psoriasis patients. The medicines which are prepared using rare herbs discourage the production of psoriasis skin cells all over the body.